Far from being a purely immaterial entity, the Internet is an extremely complex physical structure composed by a massive number of actors that have a direct and deep impact in every aspect of our daily lives. Despite its crucial role in many aspects of our society, the material and computational architectures that allow the Internet to exist are widely ignored by most of its users. Thus, this research project seeks to critically reveal and analyze the complex network of material and immaterial agents that come together to configure the Internet, from submarine and underground cables to interfaces, to surveillance, social profiling and privacy along with their environmental implications. The investigation strongly focuses on uncovering and analyzing the ambiguous relationship between networks, data, politics, economics, power and nature in the age of algorithmic governance. To achieve this purpose, we are developing and testing several experimental methodologies and critical pedagogical strategies to deeply analyze and deconstruct the physical pathways of information and the way governmental agencies and corporations take over networks and algorithms in order to surveil, profile and control millions of citizens on a daily basis.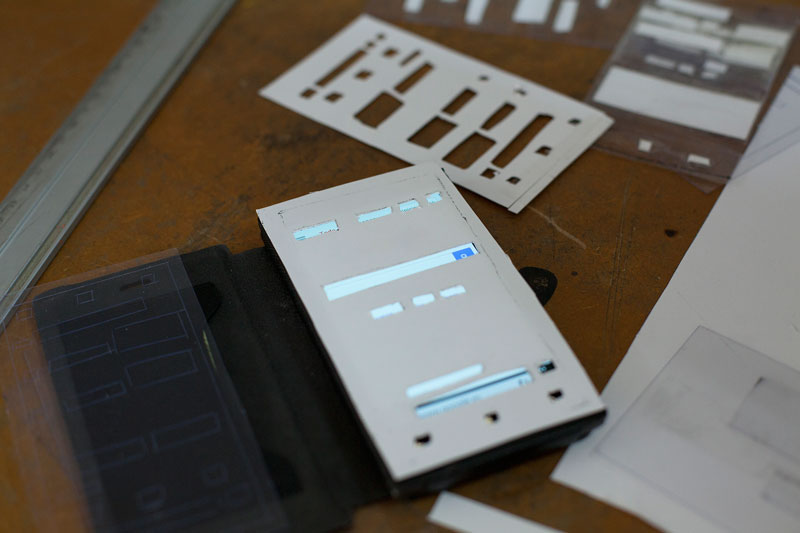 MAIN RESEARCH TOPICS
#Internet Physicality; #Geopolitics of the Internet; #Algorithmic Governance; #Algorithmic biases #Interface Politics; #Internet Backbone; #Data flows; #CO2; #Cognitive Capitalism; #Social Engineering; #Surveillance; #Online Tracking; #Profiling; #Cognitive warfare; #Data Commodification; #Data Privacy.
ACTIVITIES ARCHIVE
[1]
WORKSHOP
A POETIC DECONSTRUCTION OF THE INTERFACE
[2]
WORKSHOP
TRACKING FORENSICS
[3]
RESEARCH RESIDENCY
ETHICAL USES OF COLLECTED DATA
[4]
ARTISTIC RESIDENCY
MEMBRANA 2 (UPCOMING)
[5]
RESOURCES
CRITICAL INTERFACE TOOLBOX
[6]
RESOURCES
EVENTS
[7]
ABOUT
---
This workshop sought to critically reveal, analyze and connect the complex network of agents that converge on the configuration of the Interface. During a 3 weekend-long workshop we revealed, deconstructed and re-articulated the material and immaterial elements that construct the Interface in order to reflect on its role and influence within the social, political, economic, cultural and emotional spheres of the networked society. Therefore, the main goal of the workshop was to stimulate and re-appropriate subjectivity, an essential process in the generation of critical thought about the true nature of technology, and in the imagination of alternative techno-paradigms which may coherently respond to our environmental and human conditions.
---
Online tracking unfolds as a key agent in the construction and operation of surveillance capitalism, becoming a powerful autonomous entity run by legions of algorithms invisible to the eyes of the global citizenship. Despite of its crucial role in recording, sorting and categorizing most of our society's daily individual and collective transactions, we have very little information on the design and functionality of this ubiquitous intangible agents and about the deep social, economical and emotional implications that its actions have over our day to day lives. This workshop aims at revealing, connecting and understanding the many actors that come together in the configuration of the surveillance capitalism ecosystem by forensically analyzing the physical paths of information and applying reverse tracking methods aimed at tracing back the several companies and services that access our data in an anonymous and silent way.
---
[3]
ETHICAL USES OF COLLECTED DATA
OCTOBER - DECEMBER 2016
Conducted by Vladan Joler (
Share Lab
), the residency focused on critically exploring contemporary practices of collection and uses of data. The main goal of this residency was to create an open intervention, manual or tool capable to formulate an ethical code of uses of collected data. The final result aimed at becoming a reference guide to carry out ethical data audits on networks, mobile apps and online services.
RESIDENCY OUTPUTS
MAP #1

MAPPING MOBILE PERMISSIONS
The output of this research is a logical map of permissions that applications for smartphones require the users to grant in the process of installation. The purpose thereof is to show, in a clear way, what users agree. Users often neglect the importance of the Terms of Service, Privacy Policies and other legal documents they are bound to by installing applications on their devices. On the other hand, the companies that sell/offer those applications for free often make these documents in a way that the user grants many more permissions than the required minimum for the application to operate. Personal data of many formats (mostly content and metadata) has become a new type of currency. It is estimated that the accumulated financial value of personal data stored online could reach €1tn annually by 2020.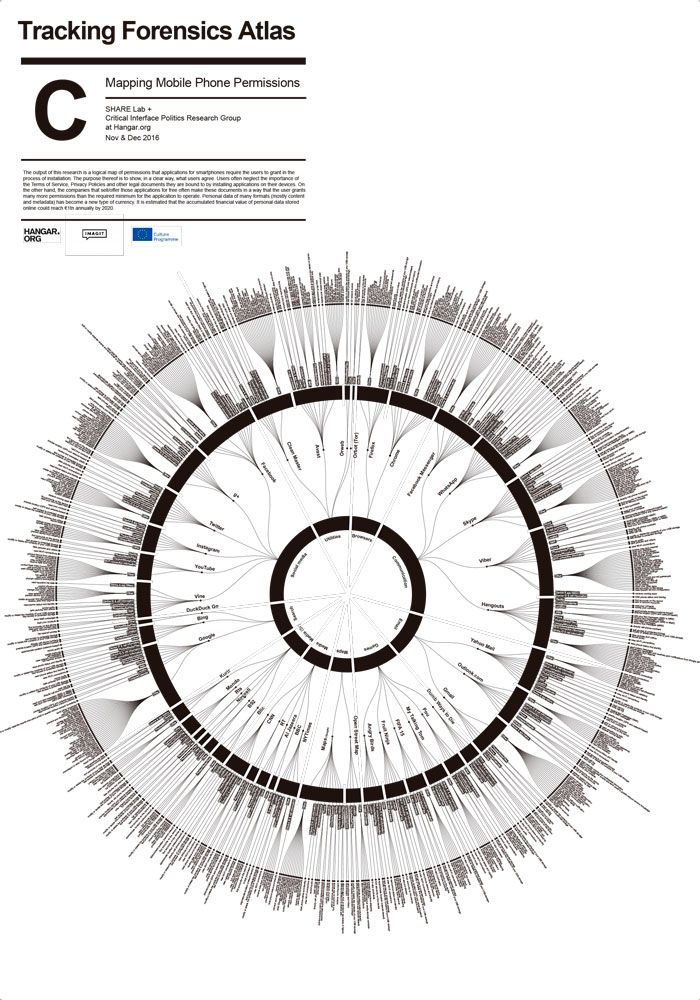 DOWNLOAD MAP
MAP #2

TRACEROUTING TOP 100 DOMAINS
In order to create a wider picture of the data flow and map key locations and actors that construct a network we conducted analysis of the data paths to the top 100 websites visited by users located in Spain. Every dot on this map represents one IP address (router or other network device) and the lines between the dots are the links – cables that connect them.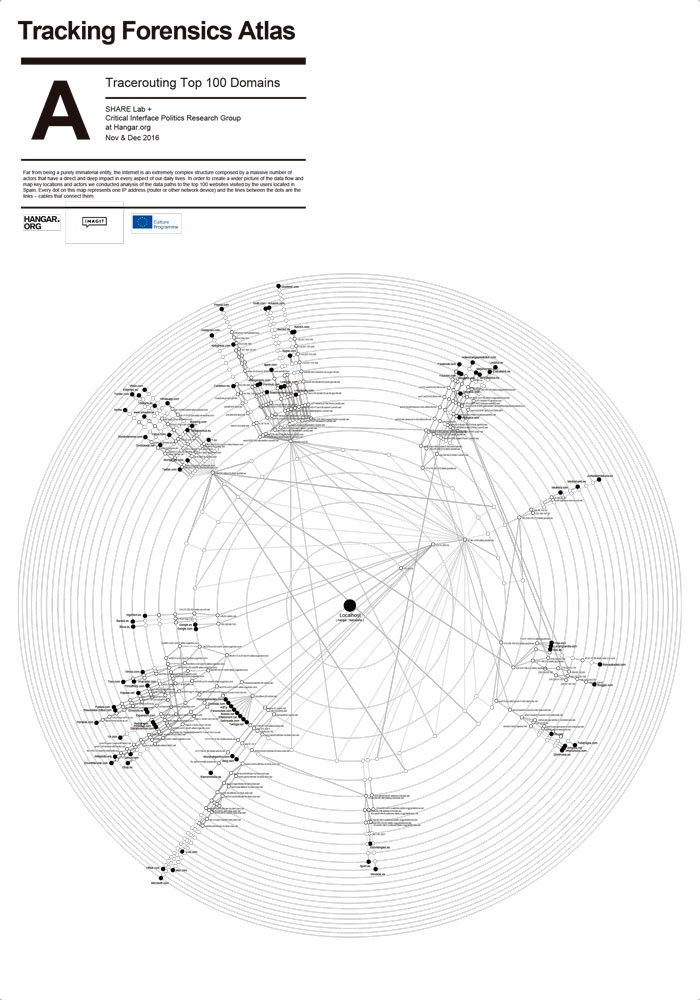 DOWNLOAD MAP
MAP #3

MAPPING ISP: GUIFI.NET
The first step to understand network infrastructures is to acknowledge the structure of our nearest network, run and owned by our Internet service provider. During our research we had a luck to explore and map one of the World's biggest bottom-up, citizen-driven, free, open and neutral telecommunications network- guifi-net. This unique network, based mostly in Catalonia consist of more than 32.500 operating nodes. This map is the network graph of guifi-net, where each dot represent one router, server of a computer and each line represent a link, a wireless or a cable that connect them.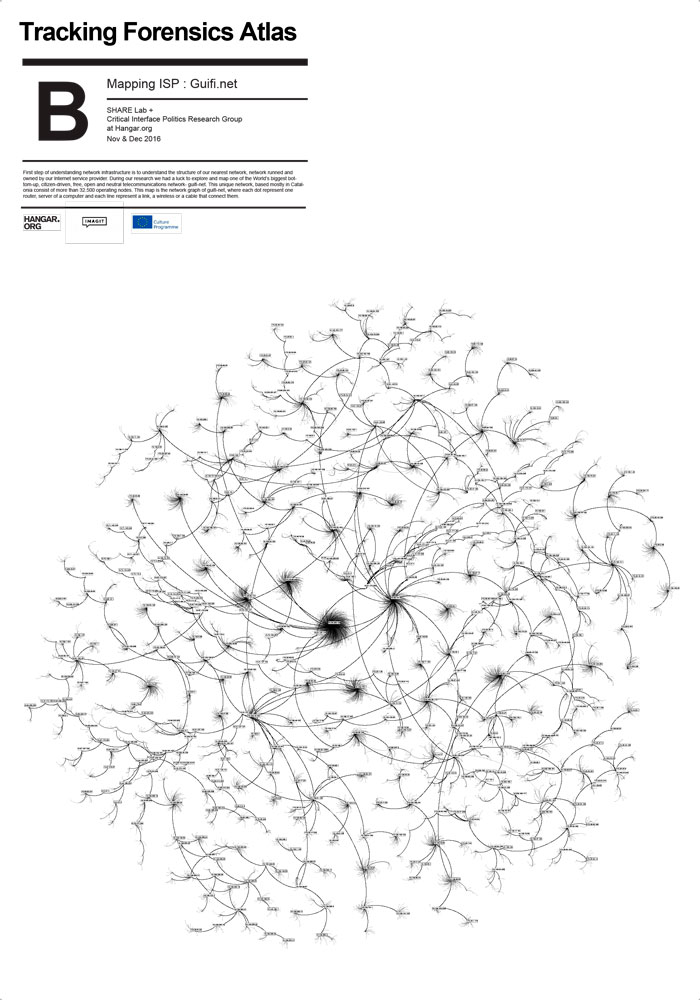 DOWNLOAD MAP
---
[4]
MEMBRANA 2
MARCH - MAY 2017
It is assumed that grand narratives are ineffective today in an age of 'post-ideology'. But even in a world said to be run by algorithms, story is key in locking people into the grid. So much has been said about control through gamification but much too little is discussed of the role of story. And if indeed our social media is a radical mix of interactive game and non/fiction, could it then not be considered a metafiction? And what does this imply on the rules of engagement? Could we hop in and out? Could we alter our timelines almost as if we were time traveling? And what if someone were to beat us to it? Would they have the power to alter our recollections radically enough to change the outcome of our actual reality?
These questions should be taken very seriously; as serious as space time continuum; as serious as flux capacitors. The web has swallowed us whole. It is orchestrated by subversive mastermind propagandists and deflectors and by trolls who unleash virulent butterfly effects on us. Still, maybe there is something left to be done to salvage our seemingly predestined doomed fates? Could we, as users, unleash counter butterflies of our own? For what it's worth, the primary objective of this interdisciplinary project, developed within MEMBRANA2 residency by Gabriel S Moses and Adam Etzion, is to try fix the course of history; first by identifying the unaddressed dangers of contemporary digital culture, then by disrupting the prefabrications found within its design and operation. In other words, yes, Gabriel and Adam are very serious about time travel.
RESIDENCY OUTPUTS
(UPCOMING JUNE 2017)
---
---

TRACKING FORENSICS
April 22nd -23th 2017, Resonate 2017, Belgrade.

ALGORITHMIC BIAS: Residency presentation
March 15th 2017, HANGAR, Barcelona.

ETHICAL USES OF COLLECTED DATA: Publication of the residency outputs
February 2017, HANGAR, Barcelona.

THE INTERNET DECONSTRUCTED
December 7th 2016, Karlsruhe University of Arts and Design (HfG), Karlsruhe.

ETHICAL USES OF COLLECTED DATA: SHARE LAB talk
November 18th 2016, HANGAR, Barcelona.

TRACKING FORENSICS in collaboration with SHARE LAB.
November 18-20th, HANGAR, Barcelona.

TRACKING FORENSICS
November 12-13th, Spektrum, Berlin.

A POETIC DECONSTRUCTION OF THE INTERFACE
November 3rd 2016, Concordia University, Montreal.

THE INTERNET DECONSTRUCTED
October 21st - 22nd 2016, The Influencers 2016, Barcelona.

A POETIC DECONSTRUCTION OF THE INTERFACE: RE-ARTICULATE
March 11th - 13th 2016, HANGAR, Barcelona.

A POETIC DECONSTRUCTION OF THE INTERFACE: DECONSTRUCT
March 4th - 6th 2016, HANGAR, Barcelona.

A POETIC DECONSTRUCTION OF THE INTERFACE: REVEAL
February 26th - 28th 2016, HANGAR, Barcelona.
---
RESEARCH
JOANA MOLL
ANDREA NONI
COLLABORATORS
VLADAN JOLER
ANDREJ PETROVSKI
GABRIEL S. MOSES
ADAM ETZION
MANAGEMENT & COORDINATION
TERE BADIA
CLARA PIAZUELO
MARTA GRACIA
HANGAR
CONTACT
joana.moll@hangar.org