_Inanimate Species (2022)
A project by Joana Moll, with the collaboration of Jonathan M. Ledgard and Alex Richter-Boix. Including texts by Selena Savić & Evgeny Morozov.



"What escapes the eye is the most insidious kind of extinction, the extinction of interactions" - Daniel H. Janzen.


In 1971, a group of male engineers designed the first commercial microprocessor in history, Intel 4004. This event marked a decisive moment in recent history, as for the first time it was possible to translate intelligence to an inanimate object, which opened a new era in technological development and the emergence of a new technocapitalism imaginary. Interestingly, while humanity began a never-ending process based on perfecting and increasing the power of this new artificial intelligence, the planet's wildlife began to become extinct at an exorbitant rate. According to a study published in 2014 by the WWF, since 1970 humanity has wiped out 50% of the planet's species. It seems that there might be a correlation between the ubiquity of microprocessors, the rise of their computational power, and the acceleration of extinction processes. In order to illustrate this, the project establishes a link between the exponential growth of microprocessor and the decline in both number and diversity of species – in particular insects, who form an essential part of our ecological infrastructure and have been declining at alarming levels, with reports suggesting that a quarter of insects could be wiped out within just a decade. Inanimate Species display, seeks to highlight the subtle but continuous replacement of the natural order by technological advancement, and reflects not only on the cannibalisation of ecologies, but also on the problematics of visibly representing climate change. Ultimately, Inanimate Species, sets out to expose the links between the explosion of technocapitalism, the acceleration of climate change and resulting decline of essential ecosystems.

The project takes shape as a large mural (625 cm. x 255 cm.) containing 19.125 pinned images. The installation also includes a small publication with texts by Evgeny Morozov, Selena Savić, and Joana Moll. The booklet is available here >>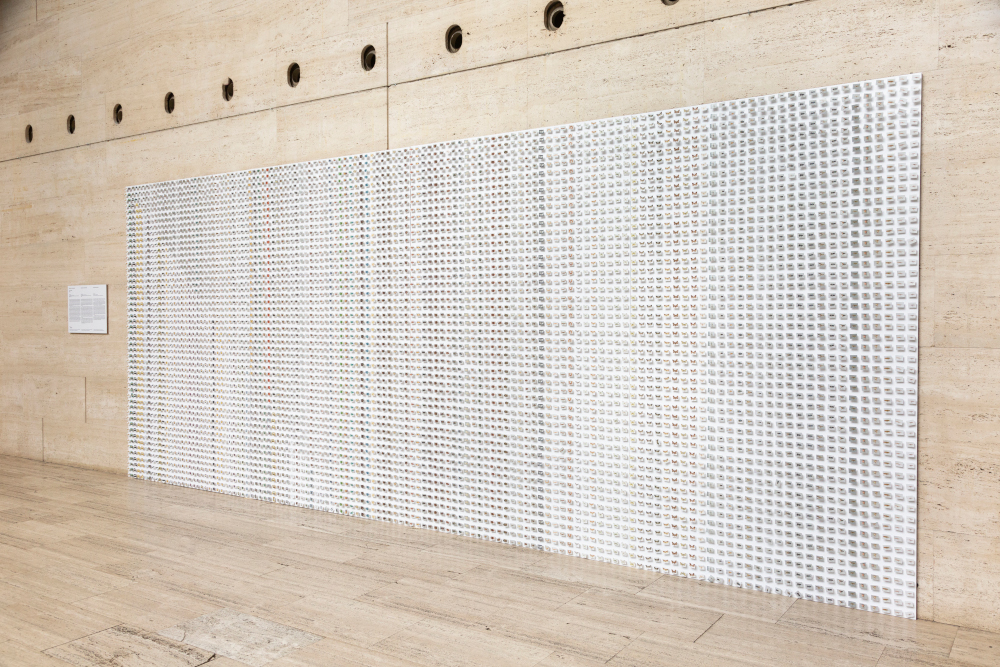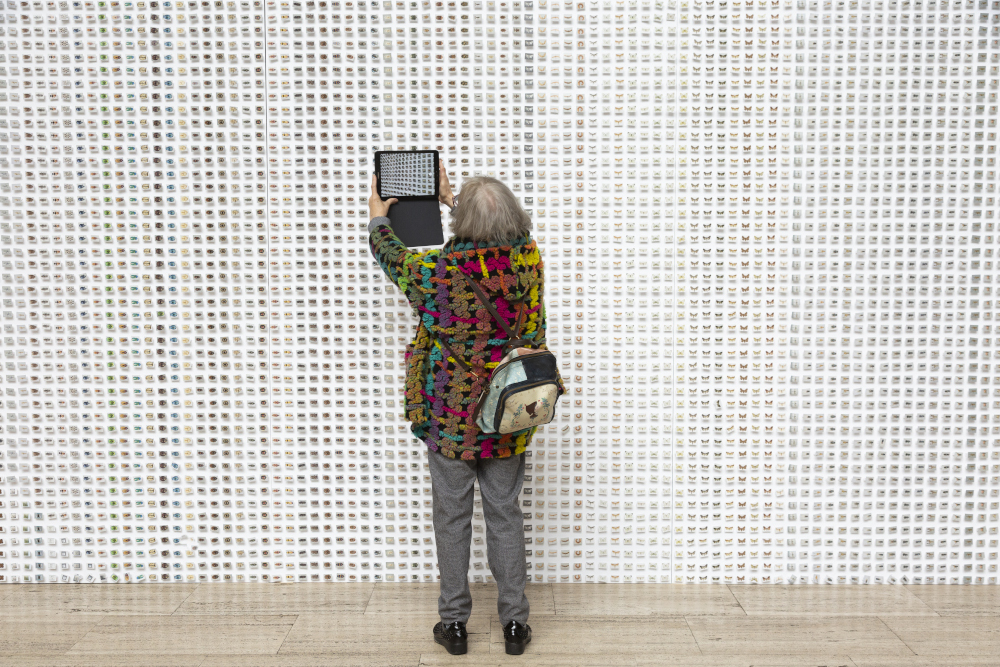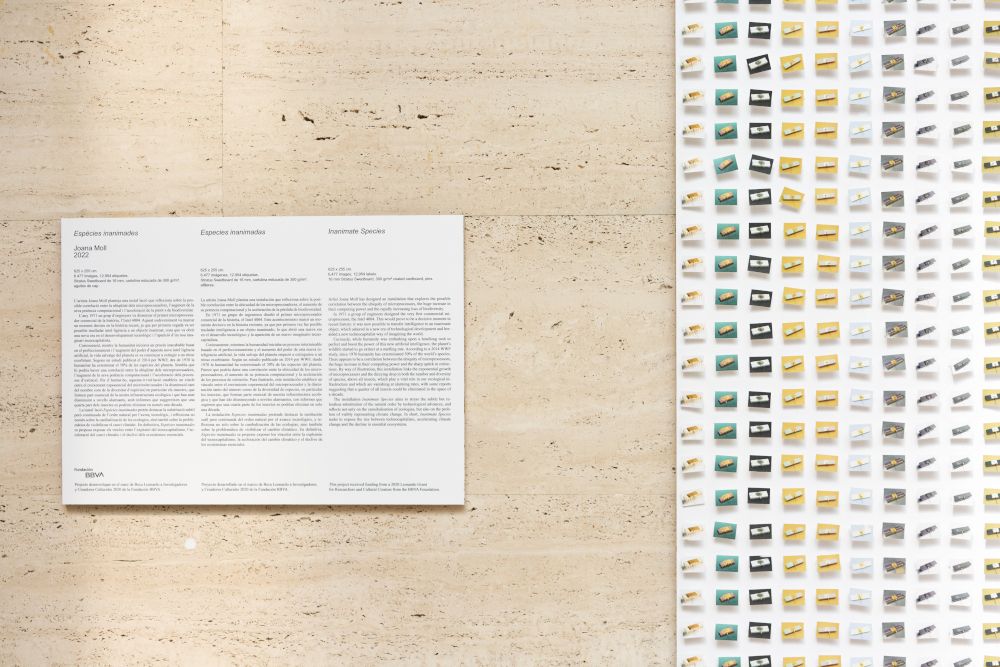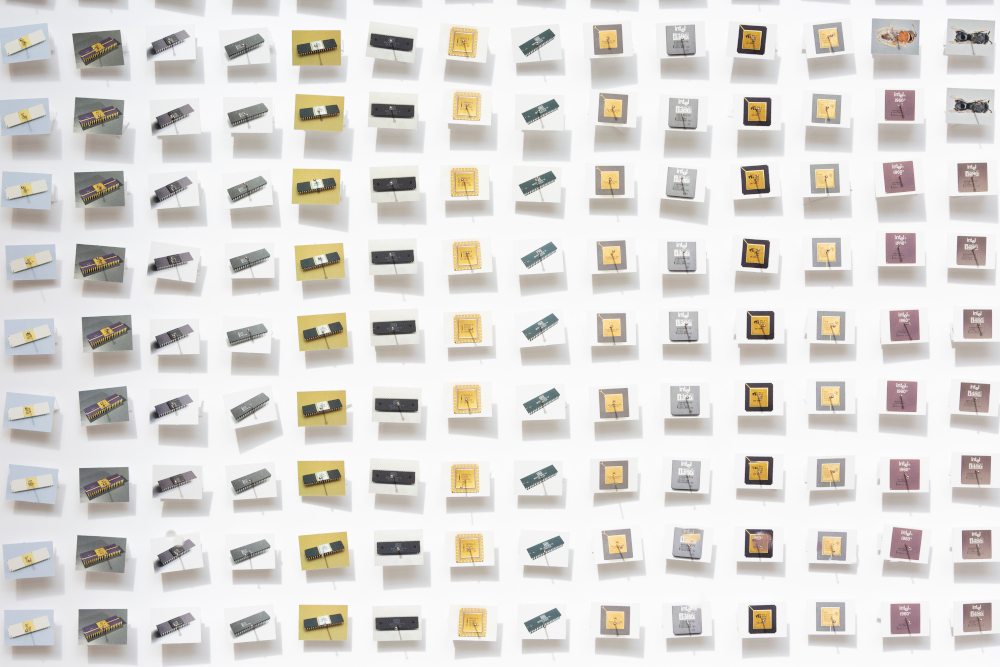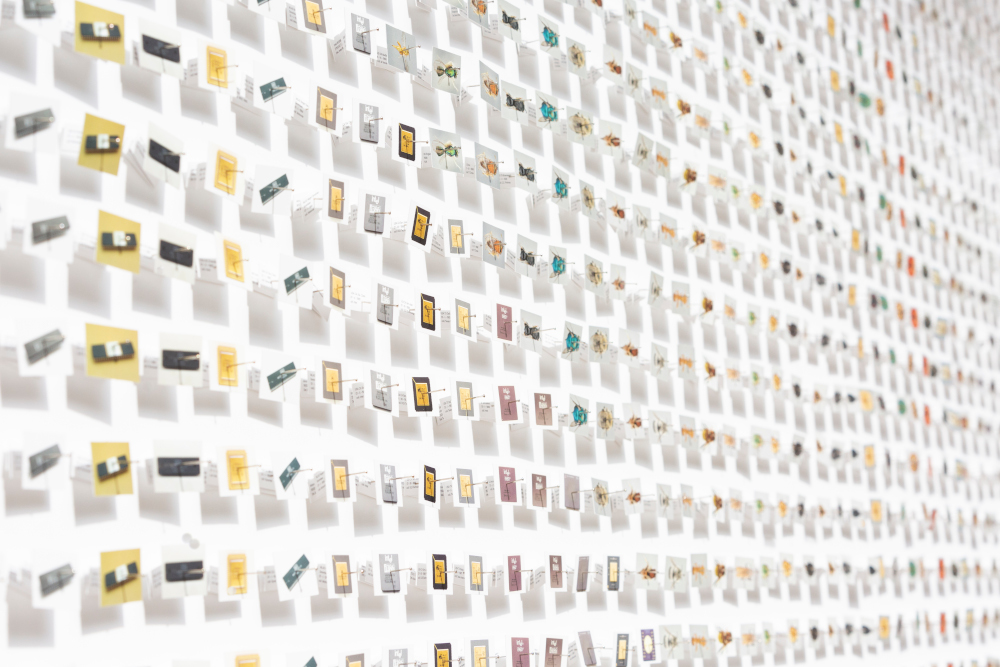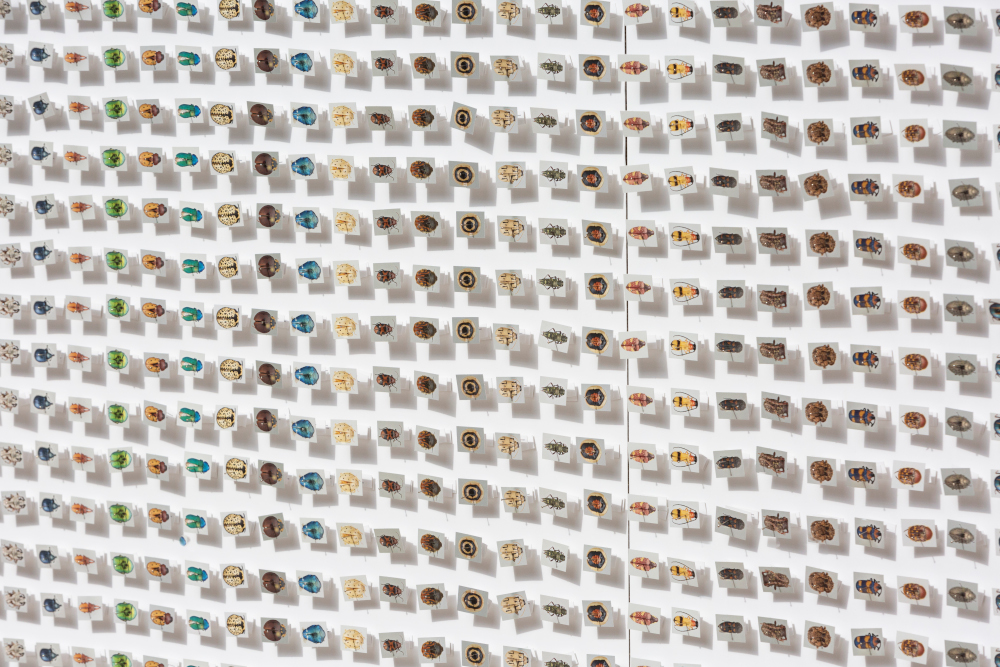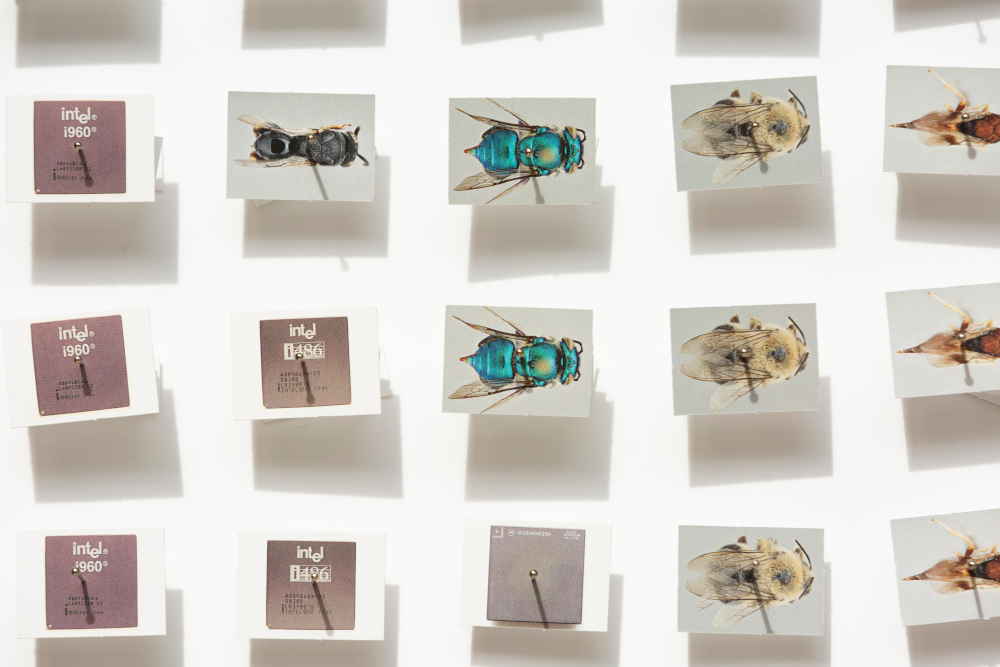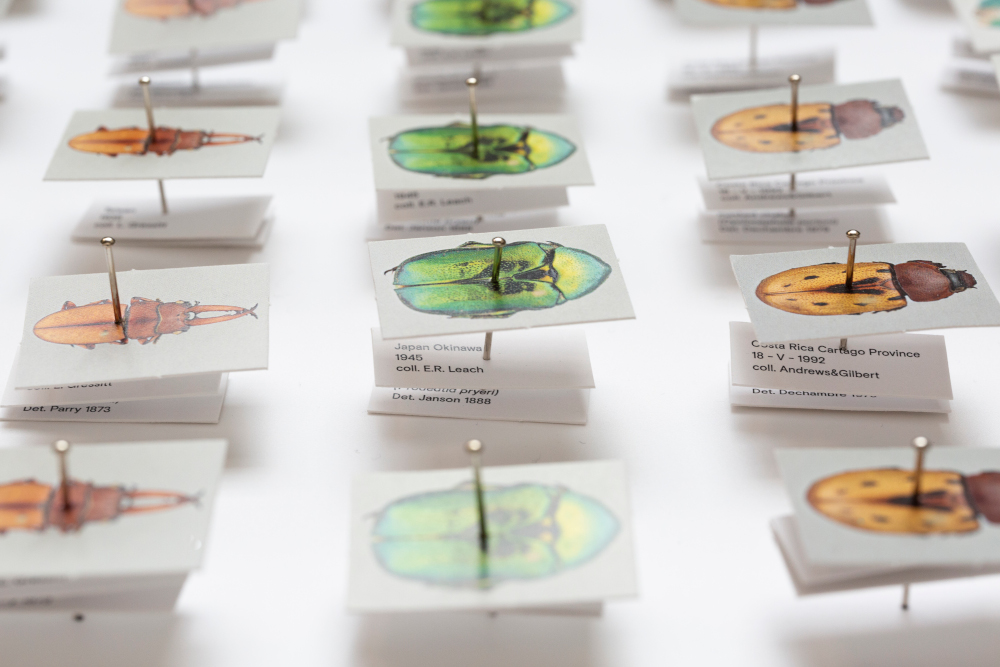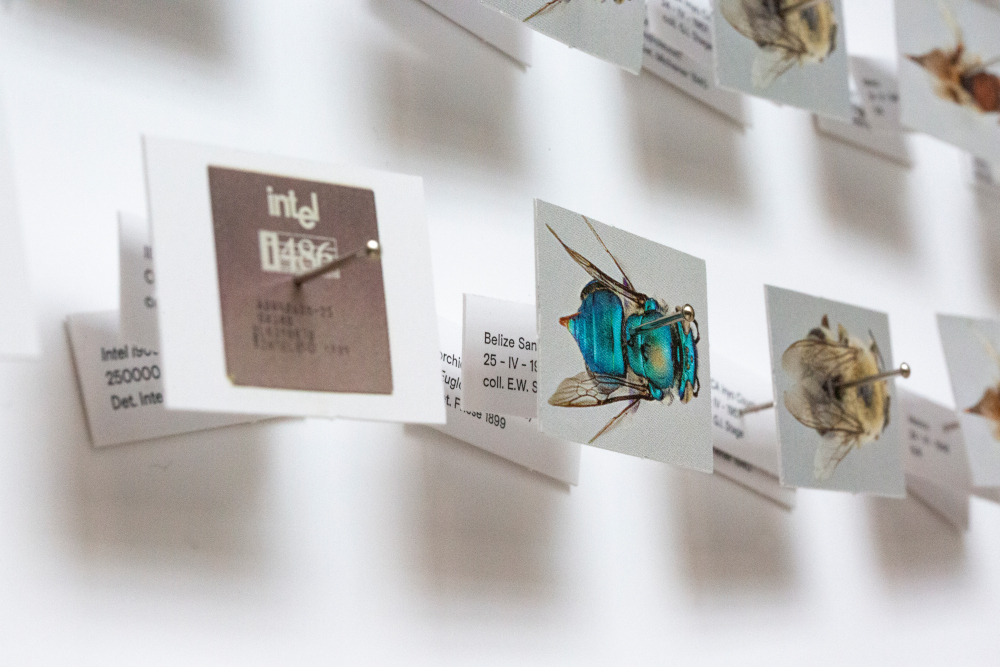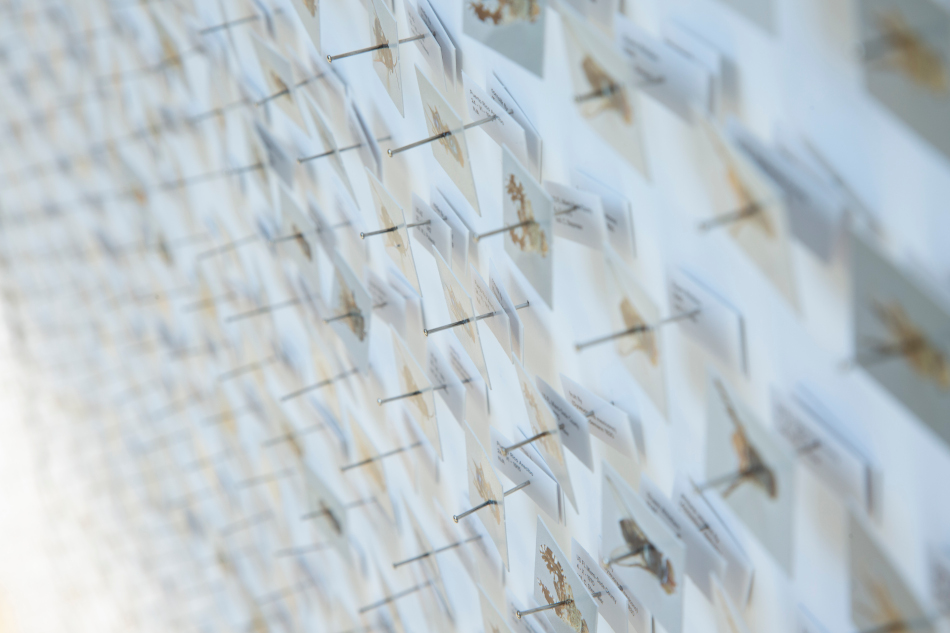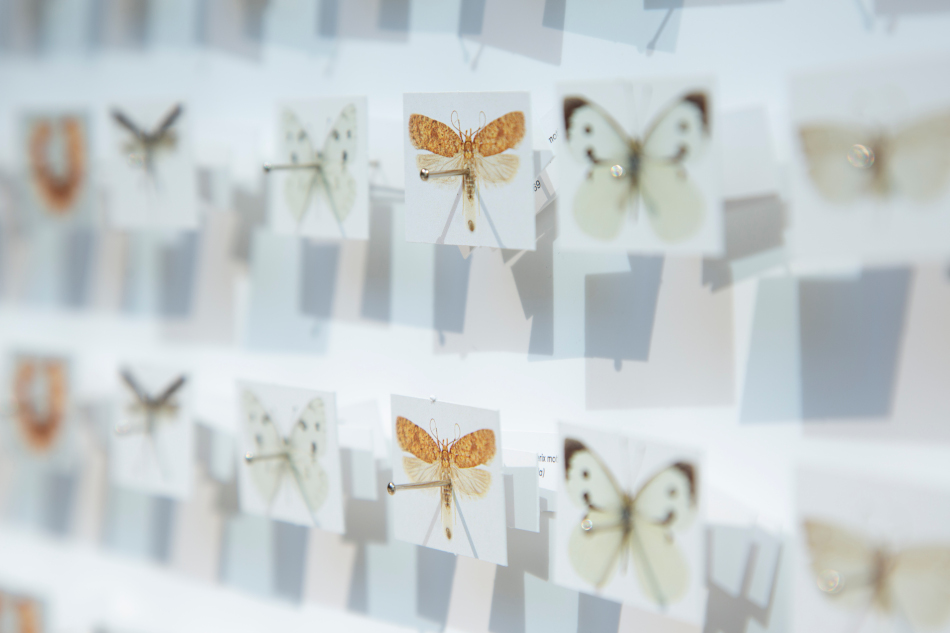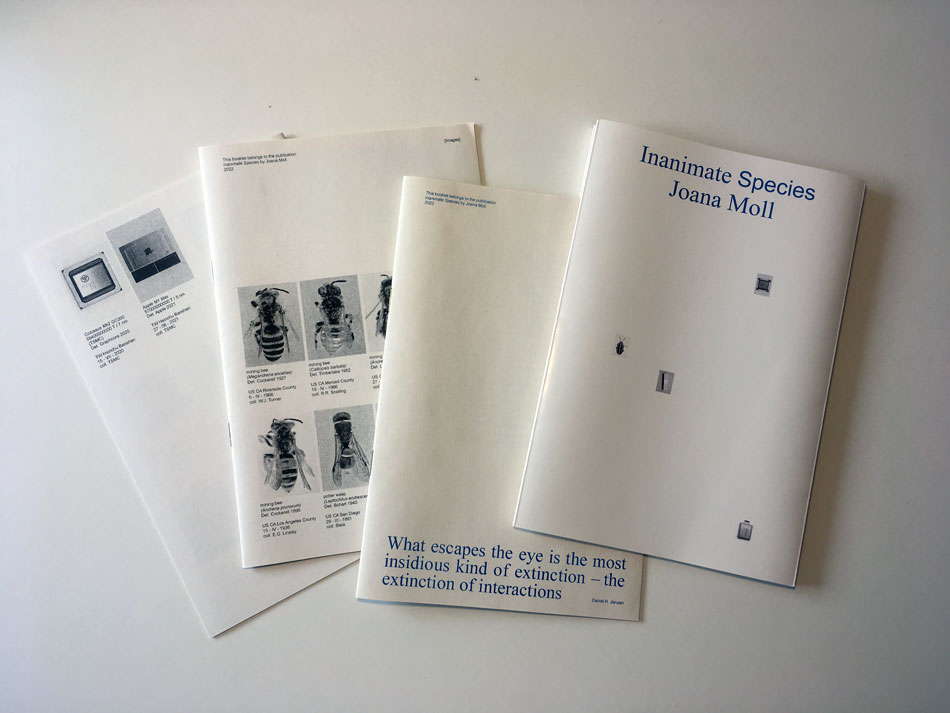 ---
Credits
Research assistant
Marta Millet
Production
TodoJunto
Production assistant
Oznan Güngör
Visual Documentation
Ona Bros
Online Documentation
Ramin Soleymani
Special thanks to
Jon Uriarte & Sam Mercer (The Phorographer's Gallery), Maria Farràs (CCCB), Susana Arias (CCCB), Bernd, Yaser Hammadi (Minespider), Schniggenfittig (WSTS), Craig Hilton-Taylor (IUCN Red List), Ignasi Bartomeus (EBD-CSIC), Jordi Bosch (CREAF), Frederic Bartomeus (CREAF), Sergi Valverde Castillo (Evolution of Technology Lab (ETL) at the Institute of Evolutionary Biology (CSIC)), Xavier Belles (IBE-CSIC), Eduard Vives (Museu Ciencies Naturals de Barcelona), Marta Gràcia, Txell Bonet, Juli Mauri (Zoo de Barcelona), Berta Caballero (Museu Ciències Naturals de Barcelona), Toni Rodon, Eduard Alarcon (UPC), Oded Schickler, Jon Sindreu (WSJ), Selena Savić (HGK FHNW), Living Planet Index, World Wildlife Foundation (WWF), Zoological Society of London, Weizman Institute of Science (Department of Plant and Environmental Sciences), Responsible Mineral Initiative (RMI), Intel Corporation, Semiconductor Industry Association (SIA), USGS, UN Comtrade, IPBES, Butterfly Conservation UK, Catalan Butterfly Monitoring Scheme, IUCN UK.
Work produced with the support of a
2020 Leonardo Grant for Researchers and Cultural Creators, BBVA Foundation
. The Foundation takes no responsibility for the opinions, statements and contents of this project, which are entirely the responsibility of its authors.
The pre-research phase of this project was developed within the framework of
Forecast Platform
.